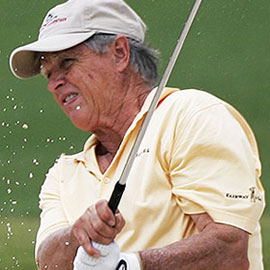 Mike Hill turned professional in 1967 and joined the PGA Tour in 1968. In 1989 Mike joined the Senior PGA Tour. He was inducted into the Michigan Sports Hall of Fame in 1994.
PGA TOUR VICTORIES
1970 Doral-Eastern Open Invitational
1972 San Antonio Texas Open
1977 Ohio Kings Island Open
SENIOR PGA TOUR VICTORIES
1990 GTE Suncoast Classic, GTE North Classic, Fairfield Barnett Space Coast Classic, Security Pacific Senior Classic, New York Life Champions
1991 Doug Sanders Celebrity Classic, Ameritech Senior Open, GTE Northwest Classic, Nationwide Championship, New York Life Champions
1992 Vintage Arco Invitational, Doug Sanders Celebrity Classic, Digital Seniors Classic
1993 Better Homes & Gardens Real Estate Chall, PaineWebber Invitational
1994 The Intellinet Challenge
1995 Kroger Senior Classic
1996 Bank One Classic
ACCOMPLISHMENTS
Has 18 career wins, tying him with Gary Player and Jim Colbert for seventh place on the all-time list
Posted back-to-back five win seasons in 1990-91 and went over the $1-million mark for the only time in his career in 1991
$150,000 check at the New York Life Champions pushed him past the $1-million plateau, making him the second senior player to top that level (Lee Trevino was the first in 1990)
Shared 1991 Player of the Year honors with George Archer and won the Arnold Palmer Award as the leading money-winner on the strength of his five SENIOR TOUR victories
Won the Liberty Mutual Legend of Golf four times with Trevino
Top 31 on All-Time Money List
PERSONAL INFORMATION
Mike Hill was born in Jackson, Michigan, and was the younger brother of Senior Tour member Dave Hill. He grew up on a dairy farm adjacent to a golf course and started the game as a caddie.
He spent nearly four years in the Air Force and attended both Jackson Junior College and Arizona State University prior to turning Pro.
Mike now resides in Brooklyn, Michigan. His family consists of wife (Sandra), two daughters (Kimberly & Kristen), and one son (Michael, Jr.). Mike's special interests include hunting and fishing.